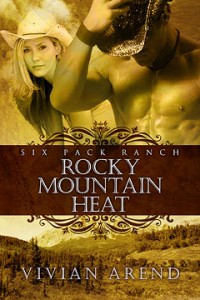 Title: Six Pack Ranch, Book 1 - Rocky Mountain Heat

Author: Vivian Arend

Publisher: Liquid Silver Books

Main Characters: Blake Coleman & Jaxi

 

Blake Coleman is old enough to know that acting on impulse causes nothing but a heap of trouble. But when trouble's a blonde wearing a cowboy hat with slim legs that go on forever, what's a man to do? Wanting the sweet girl next door is just wrong. Hell, he was the one that taught her to ride a horse and now all he can think about is riding her. The responsible thing to do is keep his hands off.

Jaxi has other plans for his hands, and his heart. She may have considered Blake a big brother once but that was a long time ago. She's all grown up now and ready to convince him that she's just what he's been waiting for.

Add the complication of two sexy younger brothers who have suddenly noticed Jaxi and things heat up fast. Blake's gonna have to decide if a little trouble is worth fighting for.
He looked at Jaxi again, lying in his lap so innocently. He was such an ass. Even while he wanted to break his brother's head for trying to touch her, he had to force himself to stop from reaching to see if her skin was as soft as it looked.
She moaned and her limbs jerked, arms flailing. She struck the dash with one hand, the wheel with the other.
"Whoa, Jaxi, take it easy, hon." He laid a restraining hand on her shoulder.
"Travis?"
"No, Slick, it's Blake. Remember?"
Jaxi rolled over to stare at him. Her eyes were glazed and she seemed to focus on something beyond his head. Her face flushed hotter and anger flared across her face.
"Damn it, Travis, I told you I wouldn't give you head while you drive. Pull over right now."
Holy shit!
"Jaxi, it's Blake… you're sick, hon—"
"Pull the truck over now, you son of a bitch." She forced herself to a sitting position, body weaving from side to side. "I swear, Travis Coleman, you're going to be the death of me. Stop now or I'll tell him."
Tell who? Tell what?
She was yelling at him now, smacking her fists into his arm. She wasn't hitting him hard enough to cause any pain but she was knocking herself around. Blake grabbed her with one hand, pinned her arms against him, and steered the truck and trailer off to the side of the road as quickly as possible.
"Jaxi, you've got to relax. It's not Travis, it's Blake. Ah, damn it, Slick, you are one sick little girl."
"Yeah, well, you're pretty sick yourself. You want to break up with me but you want one final farewell, is that it? Fine by me."
Hell, she must have heard Travis back at the fairgrounds. Now what did he do? Try to calm her down or let Travis drown in the hole he'd dug for himself?
She threw her leg across his lap like she was jumping on a calf in the roping contest.
"This is it. You hear me? As of tomorrow we're not a couple anymore and you can go fuck whoever you want without me around as a decoy. I've had enough of the pretending." While she spoke her hands slipped the buckle on his belt in one smooth motion and Blake jerked. He scrambled for her wrists, trying to catch her, trying to stop her as she dragged down his zipper and dipped her hands into his jeans.
Rocky Mountain Heat © Vivian Arend
Review
Blake Coleman is fighting the same thing that he has been fighting for the past few years, his attraction to Jaxi. The girl who has literally grown up on his land and getting into the same scrapes as his all too ornery brothers. Something as changed now however – Jaxi is under his roof and she is playing a whole new ballgame and he is not sure he likes the rules, that is if he even knows what the rules are.
Jaxi the girl from the next ranch over to the Coleman's has always known what she wanted, there was never any doubt – she wanted Blake Coleman. There was a time she thought she was not old enough, experienced enough and all the other insecurities that comes with growing up. Times are a changing and she has grown up a bit, a whole lot if the Coleman brothers are any judge of how she looks – but her biggest feat is her confidence and with that comes the knowledge that she has pussyfooted around Blake long enough – she wants him and she is going to get him.
There is just one fly in that plan – or four to be honest and they are all Blake's brothers and they all have some history with Jaxi.
This is my first outing with Ms. Arend and what a ride – ROCKY MOUNTAIN HEAT is the first book in the Six Pack Series and I am liking this alot.
The book is generally an introduction to the Six Pack ranch and the Coleman brother's and this aspect was well done in my opinion. I knew the brothers, I laughed with them, I found out their idiosyncrasy and I wanted to knock them over the head when they acted like asses. There were other support cast to this book that stood out as well – with the way they made me laugh and gave up little secrets about everyone involved in this first book.
The main plot of the book however surround Jaxi, the girl with a single minded want that knows now is her time and she is prepared to take it. I didn't really like Jaxi – but damn I have to respect that girl get up and go, she has some move on her.
Blake is typical man in charge wanting to the right thing – but when faced with the other possibility snaps –and snaps he does and  I was holding on for that wicked ride.
As a first book in a series –this is a must read, Ms Arend covered all the bases, I hope we get little glimpses of Jaxi and Blake in future books as I would love to see how they fair out with a house full of brothers and all the angst that is left over from Jaxi and Blake getting together.