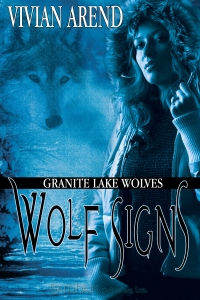 Title: Granite Lake Wolves Bk 1 – Wolf Signs

Author: Vivian Arend

Publisher: Samhain Publishing 

Main Character: Robyn Maxwell & Keil

Robyn Maxwell doesn't care that her brother has to cancel out on WolfSigns300their backcountry ski trip. She can do it alone. The fact she's deaf doesn't make her survival skills any weaker. The chance to get away from it all and relax in the Yukon wilderness is just what she's been craving.

Meeting wilderness guide Keil at the cabin starts cravings of another kind. Keil's one hot hunk of ripped, tasty male. Now she has to deal with raging hormones as well as strange questions about wolves and mates and challenges to the death.

Keil was trying for a nice reflective retreat before challenging for the Alpha position of his Alaskan pack. He wasn't planning on meeting the woman destined to be his mate, or finding out she's not aware she has the genes of a wolf.

Between dealing with his accident-prone younger brother, a deaf mate with an attitude and an impending duel to the death, his week—and his bed—is suddenly full.

Far from the relaxing getaway any of them had in mind…

Warning: Gives a whole new meaning to the phrase 'talking with your hands.' Includes dangerous use of sarcasm and hot nookie in a remote wilderness sauna.
Robyn shifted uncomfortably on the bench in the annex outside the sauna. Keil had gone back into the cabin with TJ and left her with the directions to relax and wait for him while he grabbed a few things. She added a couple extra logs into the stove, topped up the snow in the buckets and sat to wait.
It was damn uncomfortable to be sitting there knowing any moment a werewolf was going to walk in the door and have sex with her.
Arghhhh. Even the thought made her twitch. What the hell was she doing? This was crazy. It was beyond crazy.
The door opened and Robyn jumped. Sexual heat flowed off Keil's body and reached to caress her skin.
Okay. She remembered why she was going to do this. Every inch of her was on fire and she was being drawn toward the tall, hard male as if she had ropes that twined about her limbs, trapping her. Keil dropped a blanket on the bench beside her. He glanced at her before lifting her chin with his hand.
"Hey, it's okay. Let's take this slowly."
Robyn dropped her eyes, blushing furiously. "I'm scared."
"Scared of me?"
"Kind of."
His gentle hand traced over her ear and nestled in the hair at the back of her neck. "I don't want to scare you, little bird. I want to love you."
She lifted her eyes to his. "I don't know what to do. I mean, I know what to do but I've never…"
Keil waggled his eyebrows and his eyes brightened. "I know you've never. I'm glad you've never. It's good that you've never. Now I don't have to go track down your old lovers to kill them."
"Possessive much?"
"You have no idea. Yet." Keil leaned closer to brush his lips over hers. "Wait until you are fully wolf. I bet you're going to be just as possessive about me. Wolves mate for life, and we don't like to share."
Robyn shifted again on the hard bench. How could she want this much and still feel afraid to take the next step. She closed her eyes and took a deep breath, trying to build up her courage.
A gentle touch pulled her to her feet. "You're thinking too hard. Let's go slow. You must be sweaty from our ski and digging up TJ. Let me help wash you up."
Keil's hands drifted over her shoulders, pulling her up against his body for a brief caress as he reached behind her body to grasp the bottom of her long-sleeved T-shirt. With a slow fluid motion, he lifted it off her, then dropped it on the bench behind them.
As his eyes traced over her torso, Robyn fought the urge to cover her chest with her hands. Ugh. She had to decide to be seduced in a mountain cabin wearing her plainest and sturdiest underwear. Luckily Keil's face didn't seem to express any displeasure with what he saw.
And neither could Robyn complain. Keil removed his own shirt with one swift yank and stood inches away from her, his rock-solid abs tempting her fingers.

"Damn. Just…damn. Is what they mean by washboard abs? Can I do some laundry?"
Wolf Signs © Vivian Arend
Review
When Robyn Maxwell brother gives her the news that he is unable to accompany her on their yearly camping trip to the Yukon's – Robyn did not let that deter her. With the stubbornness that is so apart of her she carry on with her plan and is soon in the mountain as it was and all set to enjoy the time she has there.
Something is different on this trip however as someone has added a new feature to the landscape – and she was so going to make use of it.
Everything comes at a price and soon Robyn finds herself locking horn with Keil, wilderness guide and a totally hot stuff as well. Other than the fact that this was her time their she finds herself extraordinarily drawn to Keil and he to her as well.
Robyn comes with a careful sign, not that you can tell from how independent and stubborn she is – but she is deaf and she is one feisty woman. Keil is surprise to find Robyn in the wilderness more so by the fact that she is deaf and a wolf at that. He knows immediately that Robyn is his mate and he has no choice but to act on the impulse that are cursing through his veins..
Keil trip to the mountain was for a nice relaxing retreat before the fight of his life to become pack alpha – now he not only have an accident prone brother to deal with, but also a  deaf mate who is little more that a cub. One thing Keil was certain of – he was not going down without the fight of his life.
Another first in a series book for me from Ms. Arend and WOLF SIGNS was a quick and sweet read. WOLF SIGNS  more or less introduces us to what I hop will be a thrilling series.
The entire book takes place in the wilderness on the Yukon's and from Robyn and Keil's meeting to the loving to the little bit of angst that develop between the two it is done in an insulated setting which helps a big deal in the impact of the story.
I like the fact that Robyn was deaf, it is rarely that I read a shifter book with a protags that has a disability. Robyn's  character was well written and despite her limitation she was a strong and determined personality. This comes in very handy because Keil was no wilting flower.
He knew what he wanted and he went out with stealth and a gritty determination to be the winner in all things that he does.
From the loving to the fighting, I was engaged in this book and as limited as the book was on details of Keil's pack and his life, I was suitably pleased with what I read and I await the next saga in the  Granite Lake Wolves series.