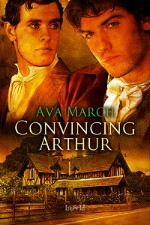 Title: Convincing Arthur

Author: Ava- March

Publisher: Loose ID, LLC

Main Characters: Arthur Barrington & Leopold Thornton

Mr. Leopold Thornton missed his chance ten years ago. He isn't about to let this one pass him by.

Given Leopold's reputation for vice and debauchery, Mr. Arthur Barrington has a fair idea why the wickedly handsome man invites him to his country estate. A hunting excursion? Unlikely. Especially considering Arthur is the only guest invited to the estate. He shouldn't even consider the invitation, but a few days of meaningless sex could be just the thing to take his mind off the recent disappointing end of a ten year relationship. Then he can return to London, to his thriving law practice, and quietly search for an amiable man who understands the meaning of the word discreet and who recognizes the value of commitment.

There was a time when Leopold wasn't such a rakehell. When every night didn't end with an empty bottle of whisky. When he believed in the rewards of patience. When he didn't give himself over to just anyone who would have him. Old habits die hard, especially when tempted by six feet of solid muscle, but Leopold will only have a few days to convince Arthur he can be that man again - that his affection is genuine and he's worthy of Arthur's heart.
"Care for a nightcap?"
"Why? Do you need one?" ...more.
Oh hell, why had he said that? He was Thornton's guest, not his keeper.
Thankfully Thornton didn't appear put-out by the rude comment. "No. You're here. I thought you might prefer a drink after the trials of your day."
He let out a harrumph as he set his shaving hit on the washstand. ?I feared the carriage would be stuck on the side of the road forever, and I?d have to walk the rest of the way. Traveling is severely overrated.?
Thornton quirked one dark eyebrow. "That it is," he replied, with a familiarity that held a hint of their old friendship.
A pang of regret gripped his heart. Thornton had been a good friend there for a while. They now moved in vastly different social circles, frequented different haunts, though sometimes happened upon each other on the street or at a club. Occasionally he saw Thornton at his father's house, lurking about, when Arthur paid a business call. But the days of meeting him at a tavern for a drink were long gone. Perhaps this holiday together could be a way to rekindle their friendship? No, no. What was he thinking?
They had nothing in common except a shared attraction to those of their own gender.
"So, that nightcap...yes or no?"
"Thank you but no." Arthur closed his empty trunk. "Do you think the weather will hold tomorrow?"
"It should. The sky was clear last I looked. I take it you want to be out with a firearm in hand before dawn." A grimace flicked across Thornto's face.
"Yes. Is that a problem?"
"No. I can drag myself out of bed at such an ungodly hour...for you."
The click of a lock sliding home reverberated in the room. Thornton pushed from the door and crossed to Arthur. Thornton didn't walk; he prowled with a distinctly leonine grace. Head tipped down, the edges of his lips curved in a knowing smirk that left no doubt as to his intentions.
Arthur stiffened. While he wouldn't deny a strong physical attraction to Thornton, he also could not deny the trepidation leeching back into his stomach. He hadn't expected to be buggered within minutes of arrival.
Thornton slowed as he came nearer, as if giving Arthur the opportunity to voice his refusal or bolt for the door. He didn't take it. He held his ground, the attraction crackling in the air between them, lighting up his senses in a way he had never experienced before. His breaths came short and shallow, his chest suddenly working under the force of them.
Thornton took one more step, closing the last remaining distance, his gaze locked with Arthur's. He placed a hand on the dresser beside Arthur, blocking the path to escape, and slowly, ever so slowly, leaned even closer. So close Arthur could make out the midnight blue flecks in his heavily-lidded gray eyes. The faint scents of whisky, the enticing spice of cologne, and clean male skin wafted around him. Warm breath fanned Arthur's parted lips; teasing, tempting. A tremble of anticipation rocked him.
Convincing Author © Ava March
Review
Leopold Thornton has waited ten years for this moment, ten years for the man of his dreams, ten years to simmer and wait for his time – now that it was upon him he knew he cannot waste time on niceties.
The man of the moment, of this deep and long standing yearning is solicitor Mr. Arthur Barrington and he has arrived at Leopold's country estate with alot of trepidation. From every thing rumoured and known about Leopold he was as easy as they come and he is certainly not the soul of discretion and that was the one thing that was most important to Arthur, irrespective of how attracted he was to the man.
Leopold waste no time in making his move and before Arthur knew what was happening he is being serviced by the best and once his head has stopped spinning he finds himself exposed to another side of Leopold and he was despite his best intention liking what he was seeing.  
As giving as Leopold was and as perfect as he feels, Arthur knows he cannot go any further with Leopold and it is for the obvious reasons of propriety and discretion – Arthur however has no idea how much this man he wants to call friend will do and give up just for him.
I have had this book for awhile now and I am not proud to say I have been pushing it back on the hard drive every time it comes within viewing distance. This week I took the bull by the horn and clicked and it was a spectacular journey. The reason for pushing it back is merely the fact that it is a historical – I have not read a historical in more years than I care to remember.
Positive.
There is a freshness to a genre when you have not read it for a while and CONVINCING ARTHUR was stunning in it's detail and wording. Where else but a historical would you find words like "Iron grey", "forwent" and "buggered", yeah buggered and it meant exactly what it sounds like…
The portags were swoon worthy material – Arthur for the fact that he epitomises what a historically correct hero would be like, strong, athletically built, have a strong moral code to himself and of course has the prerequisite "gone bad relationship" in his past.
Leopold was a surprise, from the moment the book opens you know this is not a strong lad, the more his character is developed I not only wanted to shelter him myself – but  I was only so willing to take onboard his dragons.
There was clear and present smut riddled within these pages. Leopold was a slut, there is not two ways about it. He had his justification for why he did the things he did. For me  I was only glad he had the know how to go after Arthur with blinkers on – because Arthur was certainly not going to break ranks and take the road less travelled.
The abruptness of this book lends itself heavily to the plan that Leopold had. I wont say "a short read" as short does not do justice to what Leopold had planned. He knew what he wanted, he struck without no warning and he was like a puppy at how happy the simplest things made him.
The emotional upheaval was spot on,  Ms. March got me involved in this want and need tale.  I wanted Leopold to have his utmost wish and needed to knock Arthur right over the head to get his act together and take a chance.
One of the reasons why I stopped reading historicals awhile ago was due to the fact that most authors either are never consistent to the period they are writing about or they fall down on little details on the period. Ms. March got it in one. The clothing, the house, the staff even simple detail as lube – it was mentioned by the correct term in the book and to enhance this she went on to mention little detail about that scene that make the book all that more credible.
Even with all the other positives I must say I like Ms. March's voice in this book – it's not shrouded in the words the way most historicals are, it give the necessary detail, cut to the chance and amp up the mood to make sure I was heavily involved in Leopold's and Arthur's life. 
Niggles
This is not a "with this ring I these wed sort of book" – the book ends at quite a pivotal point, the point where all the compromises needs to be made, where all the tears will be shed and I saw none of that so I would put this in the happy for now category.
While I love the story that was presented to me, I hope Ms. march revisit these characters as I felt Arthur's character was written to "not be liked" and I can see so much more to him than the arrogant, workaholic who is overly concern with propriety person that we get in CONVINVING AUTHUR. That said Leopold in this book is "easy" and under the best light would only have his looks and his fathers wealth going for him, however he was written to be loved and I did love him – I felt this book was Leopold's books and I would love for a more appreciative and softer side of Arthur to be seen if and when Ms. March does a follow up… "HINT"
Bottom Line
CONVINVING AUTHUR is a surprising good books that literally knocked my sock off.  With characters that even if you didn't love them or liked them for that matter was so well presented that I had to sympathise with their cause and root for them despite the challenges I see ahead for them.
See Elisa Rolle Review for a more detail account

"Said like that, it could seem that Leopold isn't a nice character, and it's absolutely wrong. Ava March describes him in a way that the reader is all for Leopold, and when Arthur, with right, states his perplexity, the reader only thinks that he is not right with Leopold, that he should be more flexible and understanding. Leopold is an easy man to love (no pun intended)"
See Daisiemae review – One of my favourite reviewer

"I really liked Arthur, but it was Thorn who stole my heart. His undying love and determination to have Arthur as his lifelong partner, made me feel compassion for him. I found myself hoping Arthur would take a chance on Thorn and the love he had for him."