Google to reincarnate digital books as paperbacks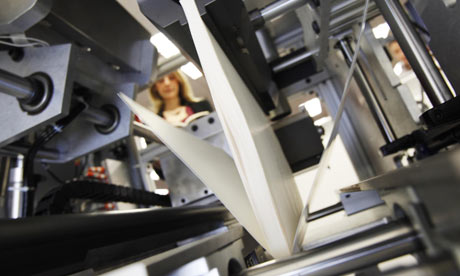 A little bit of news for those readers looking for those books out of print or just hard to find. From an article in Independent UK
Google is giving 2 million books in its digital library a chance to be reincarnated as paperbacks.

As part of a deal announced Thursday, Google is opening up part of its index to the maker of a high-speed publishing machine that can manufacture a paperback-bound book of about 300 pages in under five minutes. The new service is an acknowledgment by the Internet search leader that not everyone wants their books served up on a computer or an electronic reader like those made by Amazon.com Inc. and Sony Inc.
I have had the opportunity to use this machine in Blackwell – Charring Cross here in the UK earlier this year and It really does enhance the idea that we have reached the "Want Now' era – there is no need to wait or even delay your day to go bookshop haunting or web trawling.
If the book is not in the shop or the shop cannot get the book in stock by a certain time – then a print can be done and all at the same price for books in print or out of print books a little higher premium is charged, but it's really worth it for a book you would never find again unless your odds are very good of finding it at a car boot sale.
The article does not say which books are earmarked for reprinting, but I am sure this makes a whole generation of readers rub their hands in glee.
"It's like things are coming full circle," Google spokeswoman Jennie Johnson said. "This will allow people to pick up the physical copy of a book even if there may be just one or two other copies in some library in this country, or maybe it's not even available in this country at all."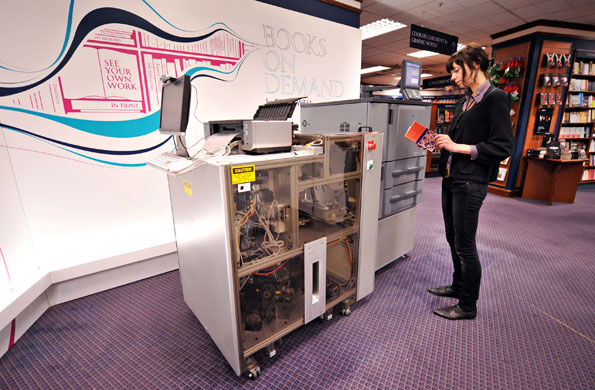 If you get the chance to check out this machine, Please do – it is really something else and I loved my experience with it.