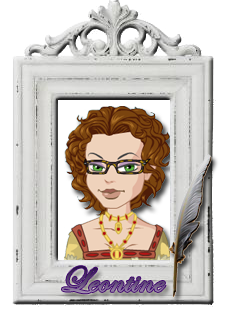 On Monday 29th of June, My Guest Blogger will be "LEONTINE", from the Blog – Leontine's Book Realm and the website Realms On Our Bookshelves. As the day belongs to Leontine, she is taking over my blog with a contest.
From her stash of books she has two books up for grab.. and all you have to do to be entered is
Leave a comment on the actual Interview on Monday 29th - HERE – so mark that date in your calendar

For any one who follow her blog, effective from today –Thursday 25 – Monday 29th you will automatically get a second entry into the pot. For existing follower, please leave on your comment to say you are a follower for your second dip into the pot.

This contest is an International Event
Tempted – Megan Hart
I had everything a woman could want.


My husband, James. The house on the lake.


My life. Our perfect life.


And then Alex came to visit.


The first time I saw my husband's best friend, I didn't like him. Didn't like how James changed when he was around, didn't like how his penetrating eyes followed me everywhere.


But that didn't stop me from wanting him. And, surprisingly, James didn't seem to mind.


It was meant to be fun. Something the three of us shared for those hot summer weeks Alex stayed with us. Nobody was supposed to fall in or out of love. I didn't need another man, not even one who oozed sex like honey and knew all the secrets I didn't know, the secrets my husband hadn't shared. After all, we had a perfect life.


And I loved my husband.


But I wasn't the only one.
Under My Skin – M.L. Rhodes
"The smart guy"—Sebastian Keller's lived with that label most of his life. Though he hasn't always appreciated it, and it hasn't exactly made him a man magnet, he's put his intelligence to work building his store, Great Escapes Travel Book Shop, to the point it's now the favorite recommendation of travel agents in the St. Louis area. His customers—especially the jet-setting senior citizens—love him for his amiable personality.


He doesn't feel very amiable, however, when Rad Tattoos moves in next door to Great Escapes. Its owner, Dylan Radamacher, rubs Sebastian the wrong way from the get-go. The man's insufferable, stubborn, and, worse, a bad boy. Everything Sebastian loathes. To add insult to injury, Sebastian's certain the loud music, the congested parking lot, and the constant colorful parade of the counterculture in and out of the tattoo studio are scaring away his loyal, conservative customers.


And yet, much to his annoyance, the teasing sparkle in Dylan's eyes, his hot, inked body, and come-hither voice set Sebastian's libido on fire. Sebastian's "been there, done that" with the bad-boy type before, though, and almost lost everything because of it. There's no way he's going down that road again.
But when Dylan sets his sights on Sebastian and is determined to take him for a walk on the wild side, Sebastian knows he's in big trouble. It's going to take all his smarts and a whole lot of willpower to resist the sexy tattoo artist before the man finds a way to burrow deeper under his skin...