This week I am honoured to have Anna from Anna's Book Blog as my guest. I met Anna a little while now and Anna has not only recommended some wonderful books to me, but i must say Anna shows in everyway what the spirit of blogging is all about. While I was setting up this post, I had a chance to go through Anna's two years worth of post and not only could I see where Anna has grown in terms of her Reviews, but her generosity is reflected in the type of comment that are left on her post.
Coming up with the questions for Anna was alot of fun and I loved her answers – Please join me in not only welcoming Anna to Erotic Horizon but also wishing her the heartiest well wishes on her two years blog birthday…
I met Anna more than two years ago on MySpace, shortly after I discovered the community of romance authors. One day I sent her a message and I learned that she was a "goodie whore" just like me. I couldn't believe my good fortune! Together, over the course of these last two years, we have fed each others obsession with author goodies. I'm certain she has sent me more than I've sent her. We've maintained steady contact with each other since that day, two or three times a week. I am so grateful to have her friendship. She is an awesome friend!
I met Anna on MySpace after noticing we had dozens of mutual friends in the form of paranormal romance authors! We friended each other there and would exchange friendly comments and tidbits about the latest releases we were both reading. Then we found another common interest.... we were both big Twilight fans. Not so uncommon these days, I know... but the fact that we were both over 30 and fans of the series way before it became the public obsession it is today...  helped forge our friendship outside of a comment here and there on MySpace. We would exchange emails and even discuss characters and plot and speculate on future Twilight novels via Yahoo instant messaging. It was great to have another adult to have intelligent discussions with about this world. 

Since then, Anna and I have both established blogs on BlogSpot and while my blogging consistency is terribly unpredictable, Anna is steadfast with hers. I can be out of touch with the book blogging world for days or weeks, but I can always count on Anna for keeping up with the latest news and reviews on paranormal romance and urban fantasy with a touch of YA and historical thrown in for good measure. Anna is also my go to for lists of upcoming releases. I don't think she has ever faltered in that department... and I totally count on her to keep me up to date. (No pressure, Anna. *wink*). But most of all, Anna is a kind and generous friend who is always ready and willing to share a few words about books or anything else I want to talk about.  No matter how long it's been that I've fallen off the blogging radar, Anna is the kind of friend that easily picks up right where we left off last.

Thanks for everything, Anna. You're a gem. 

Congratulations on your two year blogging anniversary on BlogSpot and best wishes for many many more.

Yours truly,
- Firstly congrats on your two years anniversary - what's the feeling like to know you have been around for two years on the blog.... you know that means you are old...
~Thanks! It feels great. I didn't give much thought about being around this long, but it is great to still be here. Still have a love for books and reviewing. My blogger account originally was just a backup blog cause I was having so my trouble with my MySpace blog, but now blogger is home.

-2- Can you let us know what's your speciality reading genre and how/why you got into it.
I would have to say Paranormal Romance is my speciality.

I have always been fascinated with vampires. But I really got into vampires in 1994 when the movie Interview with a
Vampire came out. At the time I had no clue who Anne Rice was. Once I saw the movie I started reading her vampire and witch books as fast as I could. After that I got hooked on to Buffy the Vampire Slayer Then I took a a detour to Fantasy with the Harry Potter series. Then one day I picked up Charlaine Harris' Dead Until Dark. And the rest is history. At the time I was reading Dead Until Dark I had no idea it was "Paranormal Romance" but I knew I loved it!

I started a reviewing about the same time I created the blog. The first book I reviewed was Sugar and Sin by Stella & Audra Price.
The first ARC I received was Amanda Ashley's Dead Perfect.

-3- With work and life in general how much time do you spend on the net and your blog in a day and weekly.
I'm usually on for a few hours in the morning and a few hours in the evening.
Sometimes longer, but then it starts cutting into my reading time. I've had
quite a few people asking about the amount of books I read. I don't work
due to health reasons, so I have a lot of time on my hands to read and blog.

-4- What are some of your daily net habits.
The first thing I do when I get on the net is log into Blogger. I'll do a post if I have one planned. I'll check for comments on my blog. Then I'll check the long list of blogs I read to see if there are any new posts. Book Blogs on Ninghttp://bookblogs.ning.com/ and Paperback Swap http://www.paperbackswap.comare two sites I visit daily too.

-5-Best thing about having a blog.. or a really pleasant event that happened to you, because of your blog. Or simple the highlight of having a blog
Getting my opinion out there, promoting my favorite authors and books. But I think the best thing about blogging is meeting fellow book lovers. It's great to know there are people out there that love the same books I do and getting excited over the same silly stuff as I do like cover art, release dates or hearing from your favorite Author.

-6- What widget/promotional site or other must have would you say made a difference to your blog
~Book Blogs on Ning http://bookblogs.ning.com/ has been one of the best things I've found on the net recently, a community for Book Bloggers.
GoodReads http://www.goodreads.com/
Twitterhttp://twitter.com have also been a big help too.

-7- .With two years under your belt, where do you see our blog in a year from now.
Whatever it was like before I started blogging, I haven't a clue. I don't do alot of planning ahead, but I'll still be around hopefully. I'll keep on reviewing and hopefully keep meeting fellow readers and bloggers.

-8-While blogging gives away a piece of our identity - do you feel you have changed (become more adventurous / more aware) since blogging. How personal do you get on your blog.
~I think I have changed. I can be shy at times, and blogging has been a great outlet. I think I've become more confident. With myself and with writing reviews. I do post personal stuff, but not all the time.

-9- What are some of the no no's for you in relation to reading and reviewing.
~Most of the time I will write my reviews as I'm reading the book. Then I will go back and change things, fine tune it. I don't review every book I read. If I don't like a book I won't post a review. While I believe in being honest with my reviews, I won't be brutal. I might mention parts of the book I didn't like, but I won't rip it apart.
As for reading I don't go out of my comfort zone.
The genre's I read are Paranormal Romance, Fantasy, Urban Fantasy, Young Adult, Historical Romance, Erotica, Futuristic Romance. I like Horror and SciFi too, but don't read much of it. Contemporary and Westerns I usually stay away from, they just don't hold my interest.

-10- Your blog is fantastic, I am always amazed when I visit at the wealth of info and the look of it - how much input have you had in formatting you blog and is there plans to change or tweak the look.
~ Well, I used to change my layout at least once a month using different websites. But few months ago my friend Barbara from Happily Forever http://booklover125.blogspot.com/ After designed the layout you see now. I'm always moving my widgets around, but I think this is the longest I've stuck with one layout. I'll probably look to change it sometime after the summer.

As for information...
I get most of mine through Fantastic Fiction http://www.fantasticfiction.co.uk/, Amazon.com and Author websites. Another great source of information is the Romantic Times Book Reviews Magazine.
-11- What are some of the more noticeable positives and negative of the book industry over the past few years for you.
~I think the number #1 positive thing is Authors coming together with readers. Social networks like MySpace, Facebook play a big part in this. eBooks becoming as big as they have. I've discovered so many new authors just by reading eBooks. As for negatives... The book and author bashing that goes on. Authors of ebooks
getting snubbed in anyway.

-12- Now to get to the books. Tell me all - the ones that started you off onto the genre, some favorite through the years and looking forward to books.
Like I mentioned earlier, Dead Until Dark by Charlaine Harris was the first Paranormal Romance book I read.
Another first was Laurell K. Hamilton's Guilty Pleasures. Urban Fantasy books are also a favorite of mine.
The book that introduced me to that genre was Richelle Mead's Succubus Blues.
A genre I've recently started loving is Historical Romance, so far Julia Quinn and Lisa Kleypas are my favorites.

Some of my favorite books over the years:
Dead to the World by Charlaine Harris,Twilight by Stephenie Meyer, Sunshine by Robin McKinley, Kiss of the Highlanderby Karen Marie Moning, The Killing Dance & Incubus Dreams by Laurell K. Hamilton, Full Moon Rising by Keri Arthur, Working for the Devil by Lilith Saintcrow, Moon Called by Patricia Briggs, Dead Witch Walking by Kim Harrison,Bitten by Kelley Armstrong, Dark Lover & Lover Awakened by J.R. Ward, Night Pleasures & Night Play by Sherrilyn Kenyon, Kushiel's Dart by Jacqueline Carey,Tempting the Beast by Lora Leigh, Slave to Salvation by Nalini Singh, Poison Study by Maria V. Snyder, Daughter of the Blood by Anne Bishop, Wicked Game by Jeri Smith-Ready, Pleasure Unbound by Larissa Ione, Grimspace by Ann Aguirre, The Duke and I & The Secret Diaries of Miss Miranda Cheever, Devil In Winter by Lisa Kleypas.

Books I'm looking forward to:
Darkness Burning by Deliliah Devlin
What Happens In London by Julia Quinn
Seduce the Darkness by Gena Showalter
Branded by Fire by Nalini Singh
Bad Moon Rising by Sherrilyn Kenyon
Born of Night by Sherrilyn Kenyon
Tempt Me At Twilight by Lisa Kleypas
Frostbitten by Kelley Armstrong
Hunter's Need by Shiloh Walker
Magic Bleeds by Ilona Andrews

-13- What are some of the current features happening on your blog at the moment... (quotes can be used or links if you so wish)
In My Mailbox- I post the books I received during the week. Normally this is feature I do every Friday.
Series Spotlight- I feature book series. Usually it's a series that has book coming
out. I do one or two a month.
Monthly Contests, sometimes I have two running.
New Book Releases- At the end of each month I post a list off upcoming books for the coming month.
Book News & Cover Art- Is a fairly new one, I try to do this once a month.

-14- With technology now walking hand in hand with our beloved print book - what is your opinion of the e-reader.
I think e-readers are great. I've had one for a couple years now. It's an eBookwise 1150 eReader. I fell in love with mine right away. I had been reading ebooks before that on my computer but that gets old real fast. I wasn't planning on it, but recently purchased a Amazon Kindle, should be arriving soon. I'm looking forward to see how it compares to my eBookwise.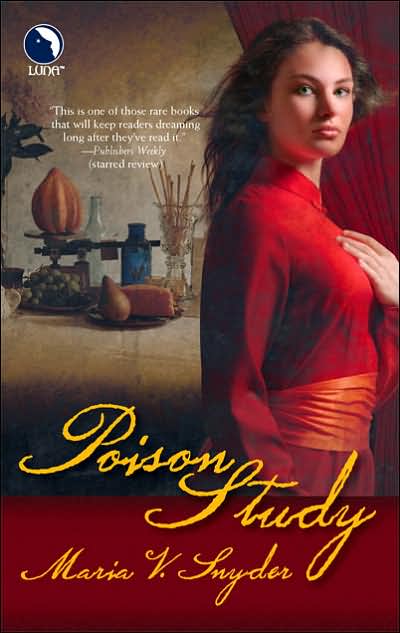 -15- A few things that you would like to see happening more or less among bloggers.
I read recently that at this years Book Expo America they had a panel of book bloggers. Which i think is a great idea. I would like to see more of that happening. Not that this will happen but I'd like to see less book & author bashing. It's disrespectful to both readers and authors.

-16- Any tips for new and future blogger
Keep at it. When I first started reviewing, I was clueless, but you learn as you go. Always give credit, where credit is due. Be true to yourself and be honest.

-17- Sneak peek at any future plans for the site or any upcoming events for you, and let us know where else we can find you on the web.
Reviews definitely, I have five I gotta do in the coming months. With the my Monthly contests coming to an end this week you would think I'd be contested out, but nope not really. There will probably be some type of contest each month. In the fall months I'll be hosting contests with Sue-Ellen Welfonder for her upcoming releases.

Where I'm at:
Blog #2: http://booklog09.blogspot.com/
Paperback Swap: http://vampiregirl76.paperbackswap.com/profile/
MySpace: http://www.myspace.com/vampiregirl1976
GoodReads: http://www.goodreads.com/vampiregirl
Book Blogs on Ning: http://bookblogs.ning.com/profile/annasbookblog
Twitter: http://twitter.com/annasbookblog
Facebook: http://www.facebook.com/annalemkau