April 2nd was International Children's Book Day. And April is National Poetry Month. In celebration, I have two lovely options for you this week:

Option A: Be a kid!
You could read a picture book (or two or three) and share what you read.
*****Write up a post sharing your favourite books from childhood
Write up a post about reading together with your child(ren)

Option B: Be a poet!
Write your own poem and share with us!
Write bookish ABC poems--ABC's of favourite authors, favourite books, favourite characters, favourite book blogs, or any combination of the above. Maybe even an ABC's of a bibliophile or book addict. (A is for...B is for...etc.)(For example, ABC's of Dr. Seuss)
Review a book you've read recently in haiku. (It doesn't need to be a poetry book you're reviewing, any book will do.) See Emilyreads for an idea of what I mean.
Read a poetry book and review it
Participate in Poetry Friday (This week's host will be Carol's Corner.)
Option A
I have decided to take part in this weeks Weekly Geek. There are two option available and i will have a go at one of these options. (I'll probably do the other option later in the week)
Here goes. When i was much younger not so long ago i loved reading, but all the stuff you read under the covers when you think your parents were in bed. I loved comics, i also loved all those mushy books that you hide behind your maths book while trying not to blush like crazy ( ironically those are the book i read most of now).
Anyhow, for all my love of reading i actually hated the subject literature right up to about year 10. The turn came for me when we were assigned that ghastly book Jane Eyre – I hated that book, still do to be honest – the only thing of any note to me in that book was the mad woman in the attic.
My dad was a  very outside the box sort of person, so he normally come up with very creative ways for us to do the things we really didn't want to do.  In his drive to get me to my exam with this book in my head he went out and bought WIDE SARGOSSO SEA – I had never heard of the book and neither had a few of my teacher to be honest.
That book changed my literary life. This is the story of the woman in Mr. Rochester's Attic (the first wife) – I still have my copy of that book and it is one of my most recommended read. The story is so real, the characters are set on another level to anything i had ever read. The fact that i could see another side to Rochester was probably the the one thing that made Jane Eyre bearable getting to exams.
I have attached some of the more recent covers of the book and a short review by Laura from girls on book.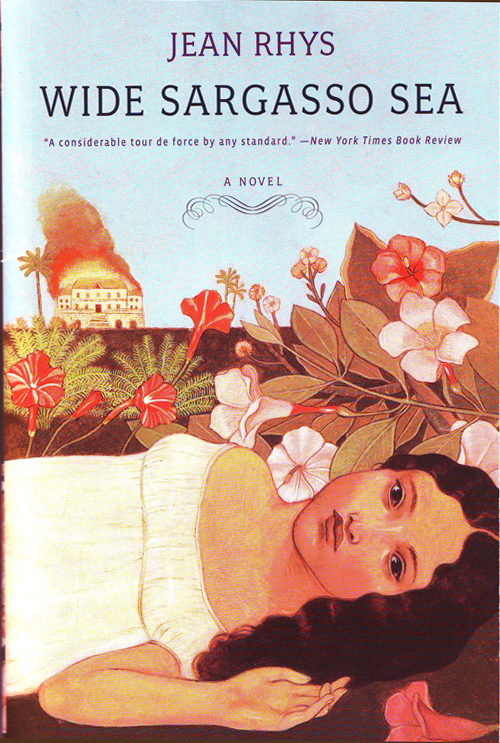 The story is that of Antoinette Cosway, also known as Bertha Mason. If you think you've heard that name before, Bertha is the mad wife in the attic from Jane Eyre. Rhys tells Antoinette's story from her childhood in Jamaica to her hasty marriage to an unnamed Englishman and finally to her days as the mad wife in the attic in England.

The novel is remarkable on two accounts. One is how Rhys took Bertha out of Jane Eyre, such a neglected character in that story, and gave her a history and homeland. The sense of place is very strong–Jamaica is a beautiful yet sinister presence through the first parts of the story. The other noteworthy aspect of this book is the writing style; it is overwhelmingly sensual on every level–the colours, smells, sights, sounds.
http://girlebooks.com/blog/book-reviews/wide-sargasso-sea-book-review/#comments
In all my years of reading this ranks as one of the books from my childhood that has stood the test of time with me. From the style of writing, to the character developments and especially for me at that time hating Jane Eyre as i did, this book only propelled me in to actually reading Jane Eyre…
The Bronte novels has never ever died out, but there are still people who don't like the books – this is a wonderful prequel to those set of books.