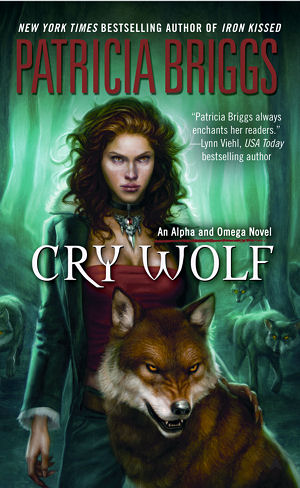 The Blurb
Anna never knew werewolves existed until the night she survived a violent attack.and became one herself. After three years at the bottom of the pack, she'd learned to keep her head down and never, ever trust dominant males. But Anna is that rarest kind of werewolf: an Omega. And one of the most powerful werewolves in the country will recognize her value as a pack member - and as his mate.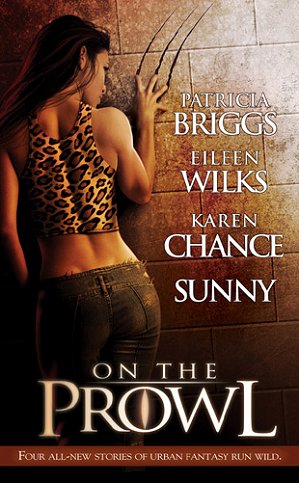 This story must be read FIRST…
The Review
The collaboration was done with Cecile – a very new blogger from All i Want and More – Please go over and let her know what you think of the review when you are done.
Our thoughts straight up first:
Cecile
First this is my first Patricia Briggs book what so ever. When I purchased this book, I thought this was the first in a series. It really is a first (Alpha and Omega book); however, I found out that the characters are introduced in On the Prowl Anthology. I would advise reading this before you step into the world of Alpha and Omega with Charles and Anna.
With all that being said, the first two chapters left me a little confused. Because when I read the blurb, it spoke of Anna being attacked and turned into a werewolf. So in my mind, I was prepared for a story of what happened to Anna before.
Overall, this is a good book to read. It is a shape-shifter book and it was nice to see/read about a woman being put in the front of the pack.
Erotic Horizon -
When i started reading the book, although i found the first few pages where engrossing – you can tell sort of immediately that you would need some sort of back history to know what was going on. The book starts immediately after ON THE PROWL.
Once i got up to speed with that book, i jumped back in and i was impressed with the pace of the book, there was never a dull moment and the characters literally kept crawling out of the woodworks.
Having never read Ms. Briggs style before and after reading ON THE PROWL , it quickly became clear that to get the best of this author this book is not the one to start with. Her writing style is sweet, she pick up on the grace of the human characters , mannerisms and attitude. There is also an independence to her characters  that borders on " I can make it on my own if i have to' but i am good with my pack as well, which  i liked alot.
She added a whole lot of uniqueness  to her wolves in an already overcrowded area of romance. Her wolves means business and they understood a code that was hardly every tested  because the consequences was dire.
I liked the book.  I will be back tracking and reading the other books leading up to this book. One thing i can say though – i fell in love with characters who were not the main protags and i will be following Ms. Briggs to see where she goes with them. 
Plot:
Cecile - Since I was put out about the first two chapters, I really wasn't feeling the book. I figured out that Charles killed Anna's pack leader and took her under his pack. His father is the pack leader. Anna is an Omega by fate not by choice.
Erotic Horizon -
Anna is packed up and carted off to Charles home and she more or less  has no say in the matter irrespective of what Charles' father says.
Coming home to Charles patch is not easy for either Anna or Charles himself, as Charles is a loner by just the fact that he is an enforcer for his pack. Anna has never known kindness from " her Kind" so she is most definately weary of this new pack that is trying to welcome her and not all of them with open arms.
Quite a few things starts happening all at once and Charles and Anna are caught up in the middle of family obligation and trying to make their own relationship work..
All hell breaks loose and they all  have only limited time before all his lost. 
She looked down at the wolf who'd put himself between her and his father to keep her from
harm. It wasn't the first time he'd done something like that.
Besides, what was her alternative? Stay in the Chicago pack? Boyd might be a vast improvement
over Leo, but . . . she had no desire to stay with them.
She put her hand on Charles's back and feathered her hand through his fur. She didn't have to
reach down to do it, either—Charles was a big werewolf. He altered his stance until he pressed
against her though he never took his eyes off of Bran.
"Okay," she said. "Give me your phone."
Bran smiled and held it out. Charles didn't move from between them, forcing Anna to stretch out
and grab it while Charles stared coldly at his father. His attitude made her laugh—which made it
much easier to convince Kara that Anna was going to Montana because she wanted to.

Cry Wolf © Patricia Briggs
Main Players:
Cecile - 
Anna: An Omega. In the beginning, we learn through bits and pieces that her old pack did not allow her to the full fledged Omega that she was deemed to be. Instead, they brutalized her, beat her and quiet frankly handed her around to all the male wolves to do as they pleased. Submission, she was taught to be; not proud, brave, and respected. It took a lot for her to over come that and for that I respected her. She turned out to be a very strong woman and Omega. I admire her courage and determination.
Charles: The Alpha. Although, his father is the Alpha of their pack; he is the assassin for his pack. Not that he likes the job, but he knows that is what is to be done. I admire his compassion for Anna, he never pitied her for what she went through or casted judgment on her. He never pushed her for more that what she was willing to give. I respected that.
I will put Asil in this mix because he was the lone wolf that found The Cornick pack. He was the legendary Moor. If it was not for his secrets there would have been no book. He wants Charles father to kill him so that he could be with his mate. What he kept hidden will bite him in the butt.
Mariposa - the witch... or should i say the b-itcha! of the book. Not every book has one like her! She is really a major pain in the booty! Without her in the book, there would be no "hatin" on her! And believe me... I was hatin her ALOT!!!
Erotic Horizon -
Anna – The Omega wolf who knew nothing about pack protocol and advantage, beyond what was beaten into her. She is not a confident person and although some of her confidence issue stem from the abuse by the pack – her natural inclination is to submit.
Charles – The Morrok enforcer – from other shifter books you can imagine that a lot of fear goes along with his position. He makes no friends and he can be quite aloof if he has to be. With Anna he is just Charles
Asil – Can i say age and beauty, that is Asil, not only was he just a handsome man, and just by the fact that he was so old he may have just cursed himself and his adopted pack to death.
Bran – This is the man!!!!!!, When we met him, he was a force to be reckoned with and he lives up to his bad ass reputation all the way through the book. He loves, but on his terms and only his "blood"…. 
Mariposa – If there was a baddie that did it for me this was it. A woman with the heart of a cobra – you never know where she will strike next.  She was on Bran's patch for one reason and she was not leaving without what she came for and she means it. 
Unexpected:
Cecile - Well, since I was confused from the first two chapters, the first half of the book was unexpected because what I keep waiting for never happened (the whole story about Anna). I stayed hung up on waiting for the full story and never got it.
Erotic Horizon -
Clearly i hadn't done enough research on this book before i started reading so, finding out i had to go back a book to catch up on the story to date wasn't bad,  but – you know when you just want to get into a book, it put me off a little. I wasn't prepare for the pace of the book, it was fast a few slow moment (explained further on) but it kept me interested.
 Expected:
Cecile - I will have to go with - since I was confused, there was nothing to predict either. Which in a weird way, was nice. It kept me guessing at what was going to happen. You kind of know that Charles and Anna will get together, but with her background that was not never a given.
Erotic Horizon -
Nothing was expected, this had a little of everything – the emotion to go along  with dominant and aggressive wolfs was present and sometimes almost feel feral how strongly they feel about things. The twist and the turns were good, really good – the baddies came out of - the woodwork, but these baddies bit and they bit hard.
Smut:
Cecile -I really have to say that there was none. It was just a touch of sex that left you smiling! And the sex was a "playful"; which was nice!
Erotic Horizon -
This i have to go back to the books to find, i can't remember a smut scene. There was inference to the act  and i knew it happened – but it was just  so sweet to see an author jumping over the smut scene – I had to add it.
The first time was fast and hard, but not too fast for her. They'd barely finished when he began
again. This time he set the pace and held her back when she would have forced him to speed up.
She'd never felt anything like it, or like the satisfied peace that followed her into sleep. She
could get used to feeling like this.

Cry Wolf © Patricia Briggs
What Pleased me:
Cecile - The books pace. It never came to a point where I felt like I could put the down (except for the first two chapters). The story line was interesting and kept turning. I never read an Omega story before, so this was nice watching her grow into her part. Because she was literally scare to be a dominate person/wolf.
Erotic Horizon -
The tone of the book was good for me, some might think a bit slow in place, but for me there a lot of old world courtesies and elegance to the way they acted and alot of their mannerism, that demanded  some of the pace be slowed down.
While the second book, did not retreat into ON THE PROWL, it went back into the history of the protags to give reasons and justify why they acted as they did and  it made all the difference to the entire book.
I have to admit the lack of smut was a plus for me, not sure if this is due to the huge amount of erotica that i read or just the fact that irrespective of the dreaded pheromones theses wolf could think logically about the repercussions of their action and acted accordingly.
I love a good "baddie" and believe me, the baddie was BAD. She just keep on coming, she's organised, she's relentless and determined. She's also smart (mad smart) but smart none the less and she just wouldn't stay down. Hats off to her…
The growth of Anna was lovely to see and Ms. Brigg highlight a point that's so much missing in alot of the romance genre, you don't need ultra beauty or ultra confidence to find the strength to conquer mountains. Anna was an Omega and as soon as she accepted this you could immediately see the difference.
There was my kind of humour in this book, not funny giggles, but black and sarcastic and you just had to literally laugh out loud when some of the one liners hit you.  
What Did not please me:
Cecile - You really should read the On the Prowl Anthology first. There was no mention of referring me to read that book first. So, I felt like Anna never got the full attention of her story told.
Erotic Horizon -
I have to agree with Cecil on this one, while i did not expect Ms. Briggs to go back into  ON THE PROWL  -the story started literally from the moment the other ended. Without reading the first book – Anna would be as boring as a dishrag.
Cover:
Cecile - The cover is interesting because after reading that, I would not picture Anna to look that way. Now I did like the glow of the book and the wolves in the background. Now the main wolf, I loved this facial features.
Erotic Horizon -
I liked what i saw in front of me in terms of the picture – it was in your face and very dramatic. In relation to the book – the jury is still out on that – as Anna no matter how much she came into her own, she was never going to be that girl on the cover. The wolf well – Charles will be Charles.