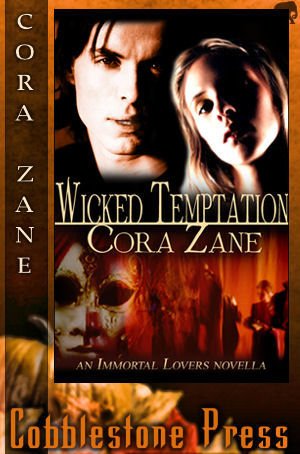 The Blurb
An unexpected visit forces Anya Audridov to find a way to deal with her sister's tragic addiction to her vampire lover's bite. Not knowing where else to turn for help, Anya calls on her own former Biter, whom she hasn't spoken to in ten years. 
Dominic Lisandro has been waiting for Anya to need him enough to call him back into her life. But his help comes with a price. He hasn't forgotten how easily she left him all those years ago. If she wants his help now, she will have to give herself over to his every desire.
The Review
Anya has been brought up in the Vampiric society and although she is aware of her place and her duties, she has taken a different path and washed her hands of the people of her Coven. Dominic demands his pound of flesh and demands Anya honours the code of the society and return to him.
Dominic is a demanding man and likes to be obeyed in all things, what he's not prepare for is Anya's return – but with conditions.
Cora Zane WICKED TEMPTATION is a delicious read. Who can resist a dominant, take charge vampire at his most charming? Dominic is sex on a stick - hot and demand all from Anya and expects nothing less. Anya wants to the one, the all to Dominic and from the first she refuses to be second best.
Loves scenes are spicy with you wondering if the flame will and can last. Both protagonists are likable and reader will be treated to a new twist on the whole vampire culture.