Judge a Book By Its Cover!


 

This week it's all about judging books by their covers! Pick a book--any book, really--and search out multiple book cover images for that book. They could span a decade or two (or more)...Or they could span several countries. Which cover is your favourite? Which one is your least favourite? Which one best 'captures' what the book is about?

 
I have decided to use one of my all time favourite book, and I have trawled the net to see what covers were there. This book was published just a month short of 91years ago, and by one the most forward thinking women of her generation.
Married Love  by Marie Stopes at the time it came out was a show stopper to put it mildly, it highlighted the dysfunction and non compromising nature of marriage and the more than feminist sentiment did not go down well with the patriarchal society of that time.
One of my favourite quote from the book is as follows.
Far too often, marriage puts an end to woman's intellectual life. Marriage can never reach its full stature until women possess as much intellectual freedom and freedom of opportunity within it as do their partners.

That at present the majority of women neither desire freedom for creative work, nor would know how to use it, is only a sign that we are still living in the shadow of the coercive and dwarfing influences of the past.
Marie Stopes is not just the name of an abortion provider.  Marie Stopes was the woman who founded the first Birth Control centre - The Mother's Clinic - in Britain on 17 March 1921.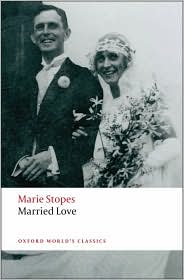 In my search  I  found four covers and from blurb and my own reading of this book, my favourite of the covers are the two with the married couple, as it give the impression of a new start, a rosy beginning, but once you have open the covers those rose coloured glasses are torn to shred, and the life of marriage takes on a whole new meaning.
The plain tan cover is probably my least favourite, but it is indicative of the time when the book was published, graphic design and erotic book covers would have had her burned at the stake.
For those who have never had the pleasure, it's a free read on the net.
http://en.wikisource.org/wiki/Married_Love