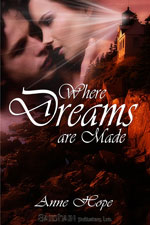 Jenny, a survivor from a dysfunctional family, with an abusive father who eventually murdered her mother in front of her, had not lost any of her human decency, when she jumps in to help when a young friend gets into trouble. This one act of kindness find her not only caught up in a seemingly no win situation but also owing a huge amount of money to the local pimp. When a kindly gentleman steps out of the dark and offers her an alternative to make quick money, she jumps at the chance.
Daniel Frost, a semi recluse due to an accident that has left him not only scared on the outside but with heavier scars on the inside. The same accident that has left him in this condition has also taken from him, two of the three people that his world revolved around. The third is left blaming him for the accident. He also blames himself and seeks refuse on an isolated island making toys with minimal human contact. When Daniel's grandfather decides to play Father Christmas and make is Christmas the stuff dreams are made of, he for one did not realize the lengths his grandfather would go to, to make him happy.
Daniel is surprise when Jenny turns up on the island to work as his assistant. She however quickly earns his trust and they form a bond that is fragile at best and hopeless at worst, unless they both can be honest with themselves and each other; before the matter is taken out of their hand.
Ms. Hope multiple award finalist, Where Dreams Are Made is a truly thrilling read. Her protagonist Jenny and Daniel are clearly the perfect half of each other on so many levels. Jenny has had a most traumatic childhood, which only a very strong willed person could have been able to pick themselves up from. Despite all that she still has enough human decency to not only help a friend in need, but also puts herself in a bind to do it. Jenny's character is gutsy, determine and full of hope. She can and is prepare to dream despite the situation she finds herself in. Although she meets Daniel under dubious circumstances that inbred decency that she has, can't let her be less than true to her own belief.
After being emotionally and physically traumatized at such a young age, Daniel is very weary of stranger bearing gift, which is exactly how he thinks of Jenny until he realizes that she sees past the scares on his face to the person on the inside. Daniel is human enough to be vain about his looks and how the outside world off his island views him, however he is also that lost little boy who only wants the love and approval of his parent. When he make the decision to let Jenny into his world, he open up his entire self and expect nothing less from the woman he see as the one person who accepts for all he is.
The love scenes are passionate and emotional, leaving you sighing with pleasure. New Author Ms. Hope has given a book worthy of a place on any bookshelf and will having you looking out for more from her in the future.